Overview
Dana Gas has operated in Egypt since 2007 through its subsidiary, Dana Gas Egypt (DGE), focusing on exploration, developing and processing of natural gas. Since entering Egypt, Dana Gas has become the nation's fifth largest gas producer.
DGE holds 4 Concessions with 14 Development Leases onshore at the Nile Delta, all operated and with 100% working interest. As of the beginning of 2022, the company is negotiation with EGAS to consolidate its existing Concessions into one new Concession with new economic terms in order to allow for a comprehensive Late Life Investment Program.
Dana Gas also has a partial interest in The Egyptian Bahrain Gas Derivatives Company (EBGDCo), an LPG recovery plant in the Gulf of Suez with annual capacity of 130,000 tons. Dana Gas sold its interest in EBDGCo in 2021.
Beside the additional investments in the existing areas, DGE also seeks new opportunities in Egypt to further grow it's reserves base.
Reserves
Based on the independent reserves audit report, The Company's Egyptian 2P reserves as of 31 December 2021 stood at 43.50 MMboe, compared to 58.62 MMboe at year end 2020. Reserves decrease because production was not replaced through exploration drilling activity coupled with unfavourable economics related to the El Manzala Concession.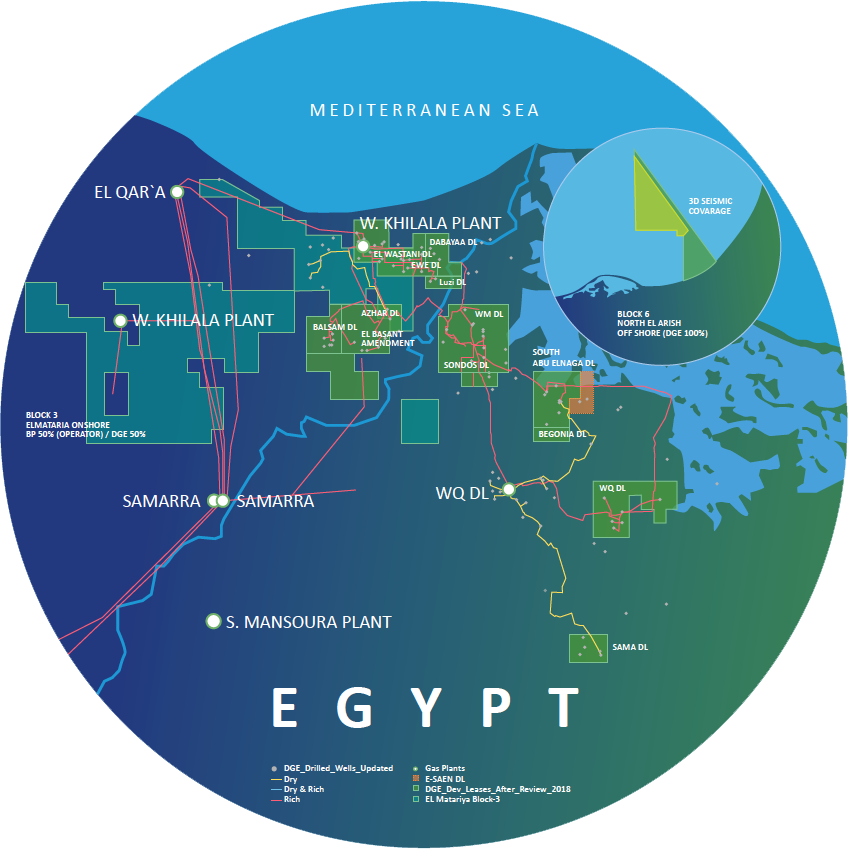 Gas production
162 mmscfpd
Condensate
4,982 bblpd
LPG production
221 MTD
Production
34.5 kboepd