Overview & Reserves
The Kurdistan Gas Project was established in 2007 when Dana Gas and Crescent Petroleum entered into an agreement with the Kurdistan Regional Government (KRG) for exclusive rights to appraise, develop, produce, market, and sell hydrocarbons from the Khor Mor and Chemchemal fields in the Kurdistan Region of Iraq (KRI). The government benefited from having a stable supply of gas for power generation in the region. Production from the gas processing plant in Khor Mor and the 180 km pipeline supplies gas to power stations in Chemchemal, Bazian and Erbil now generating over 2000 MW of electricity. Production from these newly built facilities began in October 2008 within 15 months from project initiation, an industry record. In 2009, Pearl Petroleum was formed as a consortium with Dana Gas and Crescent Petroleum as shareholders (initially 50%, now 35% each), since when OMV, MOL, and RWE have joined, purchasing a 10% share each.
The Kurdistan Gas Project was the first time that an international oil and gas company began producing gas in the KRI. To date, all of the gas produced by PPCL has been used for in-country power generation, providing affordable electricity in the KRI. In addition, the Khor Mor processing plant produces natural gas liquids (NGL or gas condensate) and liquefied petroleum gas (LPG), which are sold to the KRG and local traders. Initially, the Khor Mor plant produced around 300 million standard cubic feet per day ( MMscf/d).
Following a number of process improvements at the Khor Mor gas plant, including a bypass project completed in 2020 as well as a debottlenecking programme carried out earlier in 2018 production was boosted by 50% from 305 MMscf/d in 2018 to reach a record levels of 452 MMscf/d by the end of 2021 together with 15,000 bpd condensate and over 1,000 MT/d of LPG.
The uninterrupted supply of gas to power plants in Erbil, Chemchemal and Bazian provides fuel for over 80% of the KRI's power generation. It has resulted in significant fuel cost savings through substitution of diesel representing both environmental and economic benefits for the Kurdistan Region and Iraq as a whole.
Full-time operational staff now numbers over 600 with over 80% staff being local nationals. Local staff are being trained in order to increase this figure further. The Company has also contributed directly to local communities, supplying local power, education and healthcare facilities, as well as sponsoring support programmes for internally displaced people in Iraq.
Reserves
The significant reserves in Khor Mor and Chemchemal were independently audited by GCA in May 2019. Their report showed that Dana Gas' share of the Khor Mor and Chemchemal 2P reserves was 4.4 Tscf gas, 136 MMbbl condensate and 13.3 million MT of LPG. The report showed that Dana Gas reserves increased by 10% to 1,087 MMboe. Part of the increase in reserves was due to the booking of 18 MMbbl of oil reserves for the first time in the Kor Mor field. This places the Khor Mor and Chemchemal fields among the biggest gas fields in the whole of Iraq, making them world-class assets.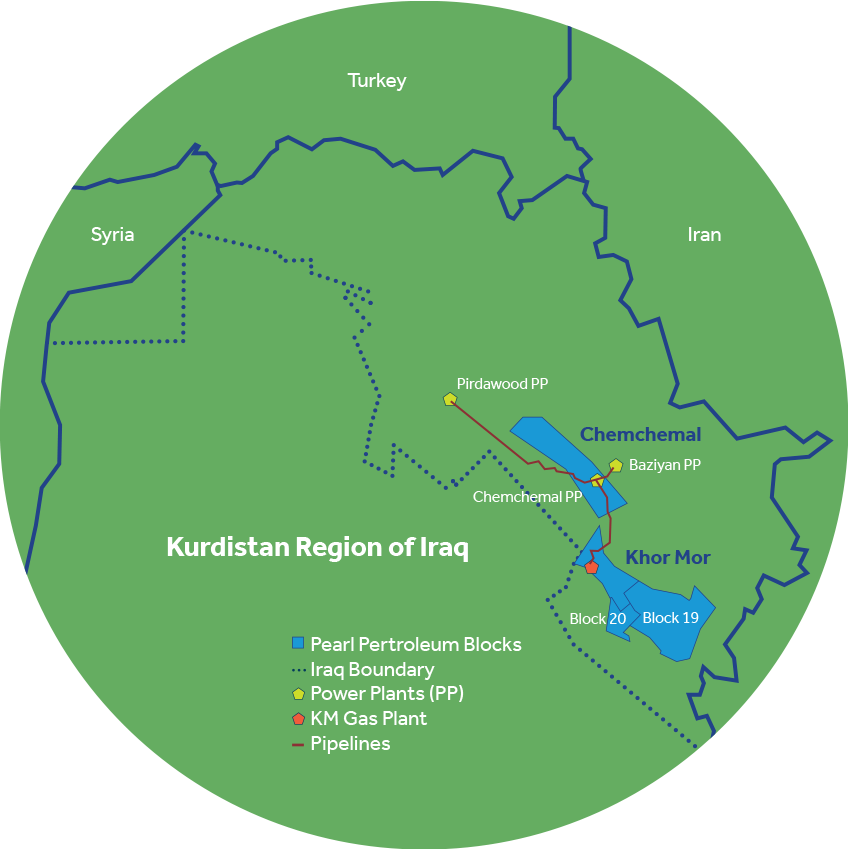 Gross gas production
420 mmscfpd
Gross condensate production
14.85 bblpd
Gross LPG production
1,000 MTD
Net production
33.8 kboepd